Your 1st Choice
Dental Team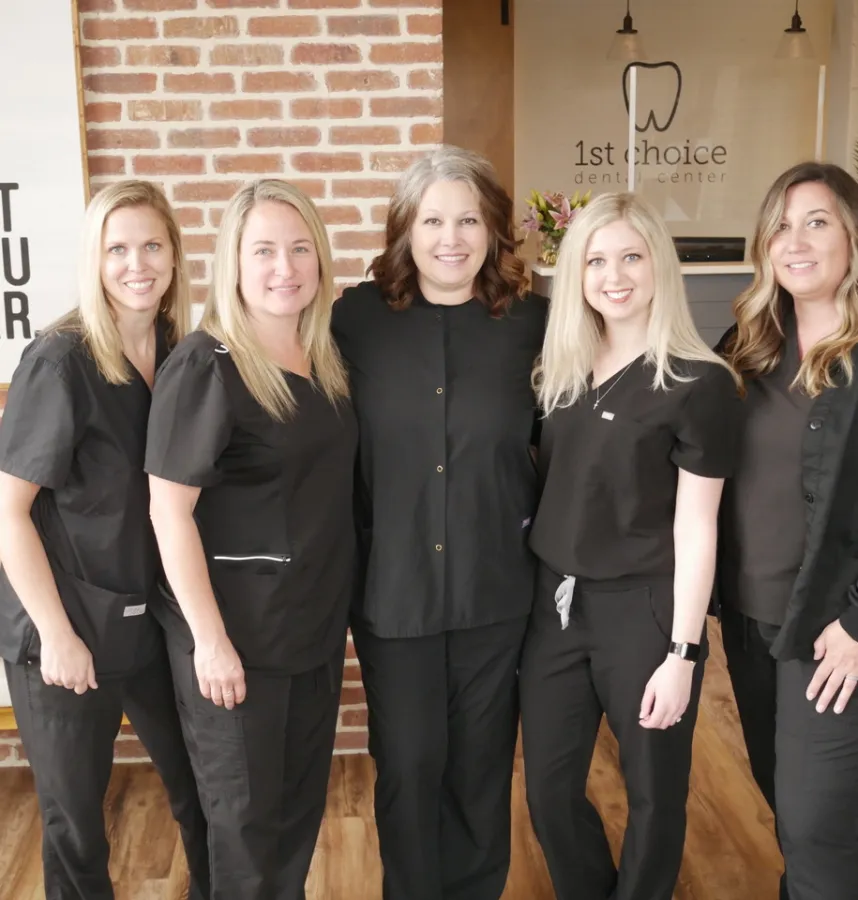 Our Kennesaw team
Treatment Coordinator
Nina is originally from Minneapolis Minnesota. She has several years of experience when it comes to patient care. She enjoys spending time with her family and her fur baby Jojo, along with shopping, watching UFC and her favorite teams are the Vikings and Saints. She looks forward to giving every patient the confidence and comfortability when it comes to their smile, oral hygiene and providing financial guidance.

Practice Administrator
Heather has been in the dental field for over 20 years, she loves providing the patients with the best care possible. Heather is originally from Louisiana, which means she is a huge LSU/Saints fan, but don't hold that against her! In her spare time, she loves running, playing kickball.. anything outdoors! She has a 15-year-old pit mix named Bella that she absolutely adores.
Dental Assistant
Hannah graduated from the Georgia School of Dental Assisting in 2019. Her favorite thing about dental assisting is the knowledge she's gained from her work. She is always learning something new every day! She has lived in Dallas, Ga her entire life, and recently became a mom to a beautiful, healthy baby.
Hygiene Assistant
Erika was born in Columbia, South Carolina and raised in Georgia. She graduated from the Georgia School of Dental Assisting at the Kennesaw office in 2020. She enjoys spending time with her family and exploring different waterfalls in Georgia.
Treatment Coordinator
Ashley is a treatment coordinator at 1st Choice, Although she has only been with the office for a short time, she loves helping patients and making them feel completely comfortable before stepping through the doors. When Ashley is not at the office she loves spending time with her husband and two wonderful girls, going on weekend trips and exploring all Atlanta has to offer.

Dental Assistant
Shannon was born in New Jersey, and raised in Dallas, Georgia. She graduated from the Georgia School of Dental Assisting in 2018 and has worked at 1st Choice ever since. She enjoys getting to know her patients and making them laugh and feel as comfortable as possible in the dental chair. She spends most of her time with her family and friends and loves cheering on the Red Sox!
Lead Trainer
Dusti graduated from Hawes Career Institute in 1995. In 2003, she became a certified dental assistant while attending Ohio State University. In 2004, she passed state boards to become an expanded functions dental assistant. She has been working as a dental assistant for 21 years; 17 years in Ohio, and 4 in Georgia. Dusti is a big Ohio State fan and loves lounging poolside with her husband and their bulldog, Bella.

Dental Hygienist
Dawn has been in the dental field for over 10 years. She loves helping patients achieve and maintain a healthy smile and smile, as this is incredibly important to their overall health and well-being. She is so thankful that she gets to be a part of an awesome dental team and gets to care for so many great patients. She also loves being a part of an amazing and large family. She is married with 2 kids and has over 20 nieces and nephews. She enjoys soccer, shopping, and being outdoors.

Dental Hygienist
Ashley is a great help to our doctors and patients by providing attentive service during cleanings and other treatments. She loves getting to know the patients and makes a concerted effort to keep the patients informed and encourage them to do their best with preventive care at home. Ashley is very adventurous. She likes wakeboarding, riding four-wheelers, and she even learned to skydive recently! When she's taking it easy, she likes spending time with her friends and family, including her little Yorkie, Winston.

Our Woodstock team
Dental Assistant
Amber recently graduated from the Georgia School of Dental Assisting and is excited to pursue a new career in the dental field after 21 years in Veterinary Medicine. She is a proud mother to one son and three crazy dogs. She enjoys going on adventures with her family and likes hiking, horseback riding, kayaking, and cruising!
Treatment Coordinator
Rachael has lived in the Canton area for over 8 years and in the dental field for over 6 years. When she's not at work, she and her husband are at some sporting event watching their son. Rachael also has a goldendoodle named Gus Gus, enjoys watching old movies, and exploring new restaurants in town.

Laboratory Technician
James has been a lab technician since 2008, and a digital lab tech since 2009. He enjoys solving problems, overcoming challenges, and finding efficiency in anything and everything. Outside of work, he is kept busy by his 5 children, but always helped by his wonderful wife.
Insurance Coordinator
Catherine started in the dental field in 2003, working clinically with patients. Now, she is loving working as our insurance coordinator, working hard to verify insurance for our patients. She is married with four fur babies, and enjoys gardening in her spare time.
Front Desk
Allyson was born and raised in Canton, Ga and currently resides there. She has a passion for helping people and always takes pride in her work. She enjoys traveling, watching movies, and spending quality time with friends and family.
Dental Hygienist
Liz was born in Southern Indiana, but has lived in Georgia for 13 years. She's enjoyed 22 years in the dental field, working in oral surgery, restorative dentistry, and a periodontal practice. She believes that being the best practitioner she can be involves always evolving her approach to dental care both clinically and educationally. She has two sons and three dogs, and in her spare time enjoys kayaking, reading educational journals, gardening, and spending time in her downtown community.
Operations
Morgan graduated from Cornerstone Preparatory Academy in 2010. She took classes at Georgia College & State University in Milledgeville, before moving back to the Atlanta area and becoming a dental assistant in 2014. Since 2016, when she "retired" from assisting, she has worked for both 1st Choice and the Georgia School of Dental Assisting in Operations, splitting her time equally between the two.

Dental Assistant
At home they call me big Miq, at work they call me Miquah. You can call me whatever, just never call me.
Dental Assistant
Danielle Thompson dental and surgical assistant for 4 yrs, loves being able to make a difference in peoples lives, thankful to be part of such an amazing practice, loves spending time with her family and 3 fur babies and loves to be outdoors.

Scheduling Coordinator
Morgan attended the Georgia School of Dental Assisting in 2016 and has since moved from dental assistant to scheduling coordinator. She enjoys helping get our wonderful patients set up with appointments and helping out at the front desk. Her personal interests include: spending time with her family and her five-year-old German Shepherd, Gus. She also runs a wood sign business in her spare time.

Dental Hygienist
Aubrey is originally from Virginia. She spent 4.5 years serving our country in the U.S. Coast Guard and settled in Georgia about 10 years ago. She has been with 1st Choice Dental since 2013. Aubrey is passionate about dental hygiene and believes that a healthy mouth is key to a confident smile. She takes pride in working with patients to achieve that confidence. When away from the office, Aubrey loves spending time with her husband, daughter, and goldendoodle. Together, they enjoy camping, hiking, tubing, paddle boarding, and soaking up the sun at the beach!

Dental Hygienist
Amy takes a lot of pride in her work at 1st Choice Dental Care. She has been working with Dr. Vaughn for more than 14 years. Amy likes getting to know the patients and visiting with them over the years. When she's not in the office, Amy likes to relax by the lake and spend time with her 3 boys!

Front Dest
Amanda is originally from Jacksonville, Florida (go Gators!), but has been in Atlanta since 2002. Amanda has worked in dental for 8 years and loves it! Making people smile is her favorite part of the job. In her free time, Amanda enjoys playing with her 2 girls, ages 12 and 3. She loves to bowl, watch football, and go to the gym!

Practice Administrator
As the practice administrator, Holly works with the Woodstock team to help ensure that all patients receive the highest levels of customer service when it comes to appointment scheduling, financial arrangements, and any business-related issues. What she loves most is that 1st Choice values patient care above all else. On a personal note, Holly loves hanging with her favorite pup "Bear", going to festivals, hiking, and hanging out with friends at any type of sporting event. Don't hold it against her but she loves the LSU Tigers and New Orleans Saints! "I really enjoy my interactions with so many different people. Everyone has a story, and it's great to be able to become a part of that."

Laboratory Technician
Certified Dental Technician Born and raised in South Carolina. Wade graduated from the University of South Carolina with a Bachelor's in Music 2012. The tuba was his primary instrument. He became certified in Dental Technology by the South Carolina State Board of Dentistry in 2015 and Certified by the National Association of Dental Laboratories in 2018. Wade enjoys creating new smiles and being apart of the 1st Choice team!

Dental Assistant
Diana was born and raised in Georgia. She decided to pursue a career of dental assisting and graduated from the Georgia School of Dental Assisting. She's a former cross country runner and played soccer in high school. She enjoys interacting with others and being a team player!