If You're Tired of Dealing with Regular Dentures then try StayPut Dentures
Do you suffer from loose or ill-fitting dentures?
Are you tired of dealing with messy denture adhesives?
Are you unable to eat and enjoy the foods you love?
Do you have social anxiety due to bad dentures or avoid eating out with friends and family?
If you answered yes to any of these questions, then you owe it to yourself to see what 2-6 implants can do for you. Just a few implants may be the solution to all of your denture problems!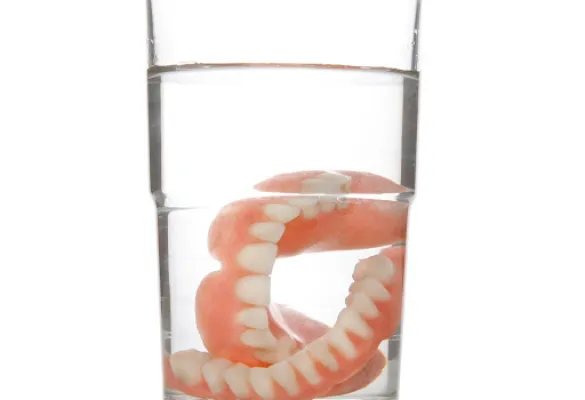 What Are StayPut Dentures?
If you're tired of loose, uncomfortable dentures, then StayPut dentures may be your solution. StayPut Dentures provide traditional denture wearers with a new lease on life by using implants to "snap" your denture in place. This means no more frustrating slippage when eating or speaking and no more messy denture adhesives. StayPut Dentures provide exceptional performance and functionality when compared to traditional dentures and they also help maintain your jaw bone health. In many cases your existing denture can be used saving you hundreds of dollars!
With as little as two implants placed in your lower jaw or 4 implants placed in your upper jaw, a denture can be "snapped" into place. This provides the retention you need to feel secure and eliminate the need for denture adhesives. These implants also provide critical jaw bone stimulation which helps maintain the health of the jawbone.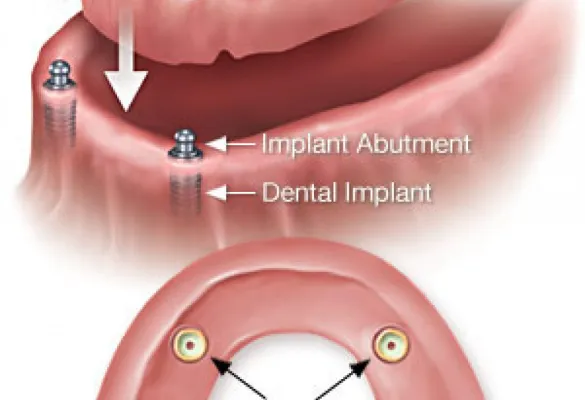 What Do I Do Now?
Call Today or Schedule Online
We'll find a time that works best with your schedule
Complimentary Consultation
Meet with the doctors and have all of your questions answered
Find out if you are a candidate for dental implants
Have details and a better understanding of all your options
Smile
Smile knowing you're one step closer to a denture that StaysPut!
Professionalism was superb, and I thought the décor of the facility was fabulous. Because I love to laugh, an excellent sense of humor is, to me, a vital human quality. Guess what? I FOUND THIS VITAL QUALITY HERE AS WELL!!
Mack H.
Once again a first rate experience. Sat down in the chair right on time. The friendly and professional staff took care of my implant crown without any issues or delays. Quality of the work is great. Highly recommend this business.
Dick H.
First visit and I was impressed. The office is extremely clean and the staff are all very friendly! I'll definitely be back and I'll definitely refer friends and family!
Cheryl C.
I normally hate going to the dentist, but Dawn is great, and makes the experience as nice as possible. The staff is always so nice. I'd recommend 1st Choice to anyone.
Drew S.
Dr. Vaughn and staff are great! They can help you with all your dental needs. If you need a cleaning, a cavity filled, root canal, or your wisdom teeth removed they can make it happen.
Donald M.
1st choice Dental care is the best. Professional and highly educated Dentist and assistants. All work is satisfaction guaranteed. All the staff is friendly and courteous. I recommend it highly. I recommend 5 stars plus.
Nonalee B.
I have been using this office for several years! The staff is always so friendly! My last visit was with Anna and Dr. Stephanie. They always put me at ease. Great place!
Teri B.
We have been going to 1st Choice Dental in Woodstock for about 3 yrs. Friendly, qualified staff who take pride in their work. Would recommend for anyone looking for quality dental care.
Monty T.
I see Dr. Vaughn at the Woodstock location. She and her staff are very friendly and professional. I definitely recommend this practice.
Sandra C.
If you're looking for a great dental office with a top notch professional team who are courteous and genuinely happy to see you, look no more! Excellent customer service! They really care about you having the best experience!
Joy B.
I absolutely love this dental office- Kennesaw, GA. The staff is always super friendly and professional!!
Marla A.
So caring! They take their time and are patient with me. I love the smiley face on the water bottles!
Briana W.
I now smile like never before, I'm more social, feel younger and energetic! I wish my parents could see this change, but I know they're looking down and smiling with me.
Patty
The girls up front make or break your business. These girls make this office. They are kind, thoughtful and friendly.
Wade S.
Great group of people and the doctors were great! Took care of issues my own doctor didn't! They are awesome!!
Cheryl D.
Frequently Asked
Questions