Crowns and bridges are dental devices that are very closely linked. In fact, bridges are made up of two crowns that are anchored to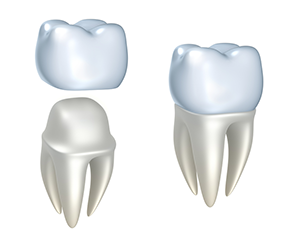 healthy teeth. The American Academy of Implant Dentistry estimates that 15 million Americans have crowns and bridges. The purpose of both of these dental devices is to restore your teeth cosmetically and functionally. Learn more about getting crowns or bridges installed by a dentist at 1st Choice Dental Care in Woodstock, Marietta and Kennesaw, GA and what these devices can do for your smile.

Make Your Smile Pretty Again
Everyone wants a pretty smile. It's especially important to Americans. According to a Delta Dental survey, 50 percent of respondents believe your smile is your most important physical feature. Both crowns and bridges have the potential to make your smile look more beautiful. They are made of high-quality porcelain that looks identical to a healthy tooth. A crown can also make a dull, badly discolored tooth look white and polished again.

Make It Easier to Eat and Talk
The durable material that makes up crowns and bridges is resistant to damage and will give you more confidence when you're eating and talking. When you have a missing or vulnerable tooth, it can change the way you speak. Also, though it is best to avoid contact with dark foods and liquids, the material is also resistant to staining.

Relatively Quick and Easy to Install
It takes about two appointments with your Woodstock, Marietta and Kennesaw dentist to have crowns or bridges installed. At the first appointment, your teeth are prepared and impressions are made. At the second visit, usually a few weeks later, the crown or bridge is bonded in place. Expect each appointment to last only about an hour or two—you might even be able to get the procedure completed on an extended lunch break.

See a Dentist for a Consultation
Getting a crown or bridge starts with a consultation to ensure that your teeth are healthy enough to support these devices. Call 1st Choice Dental Care at (678) 293-8773 to schedule a consultation with a dentist at one of our three convenient locations: Woodstock, Kennesaw or Marietta, Georgia.