Teeth Whitening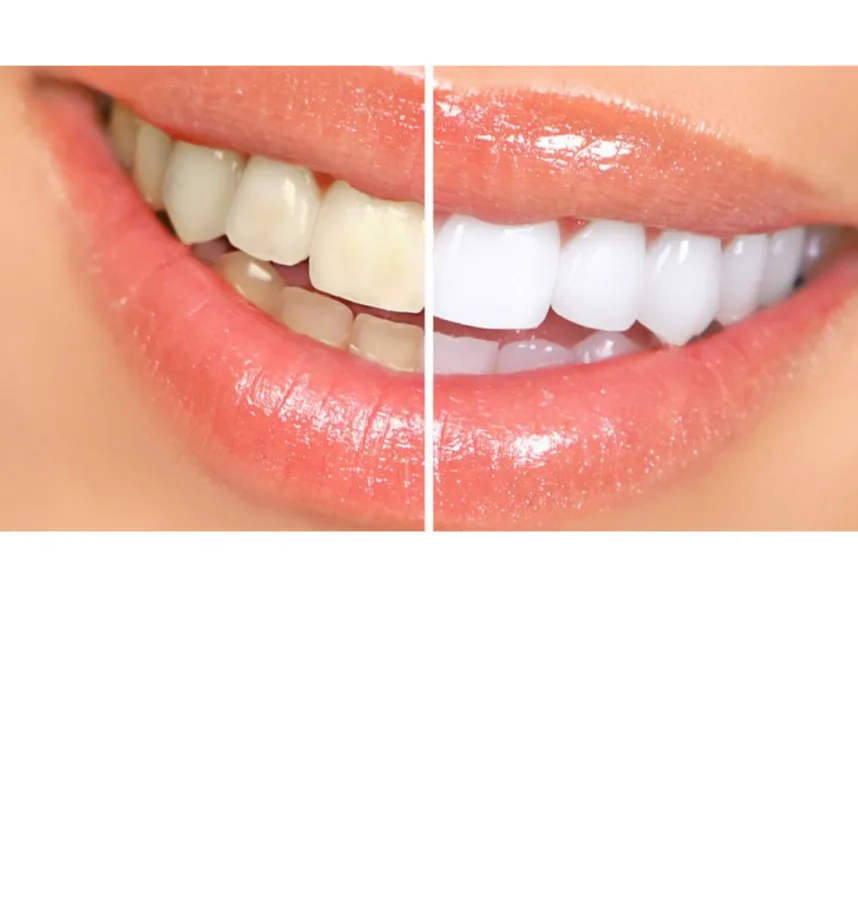 Teeth Whitening Specials
$199 take-home whitening

$349 in-house whitening
$399 bundle
Teeth whitening is a cosmetic dental procedure designed to remove stains and discoloration from teeth, resulting in a brighter, more youthful smile. There are various methods of teeth whitening, including in-office treatments, at-home treatments, and over-the-counter products.
In-office teeth whitening treatments are performed by a dental professional and usually take about an hour to complete. During the treatment, a high-concentration bleaching agent is applied to the teeth, and a special light or laser may be used to enhance the effects of the whitening agent. In-office treatments can provide dramatic results in a short amount of time, but they can also be expensive.
At-home teeth whitening kits are a more affordable alternative to in-office treatments. These kits usually include a lower-concentration bleaching agent, such as carbamide peroxide, and may come with custom-fitted trays or strips that fit over the teeth. The user applies the bleaching agent to the trays or strips and wears them for a designated amount of time, typically for several days or weeks.
Over-the-counter teeth whitening products, such as whitening toothpaste, strips, and gels, are widely available at drugstores and supermarkets. These products contain a lower concentration of bleaching agent than professional treatments, and may take longer to achieve noticeable results. However, they are a convenient and affordable option for people who want to whiten their teeth at home.
While teeth whitening is generally considered safe, it is important to follow the instructions carefully and avoid overuse of whitening products. Overuse can cause tooth sensitivity, gum irritation, and even damage to the enamel. People with sensitive teeth or existing dental problems should consult with a dentist before undergoing any teeth whitening procedure.
In summary, teeth whitening is a popular cosmetic dental procedure that can help improve the appearance of stained or discolored teeth. With various treatment options available, people can choose the method that best suits their needs, budget, and lifestyle. However, it is important to use teeth whitening products responsibly and to consult with a dentist if there are any concerns about dental health.
The cost of teeth whitening will depend on the type of procedure you choose to undergo. In-office procedures will depend on your dentist's pricing. At-home procedures could cost anywhere between $100 and $700, while usually you'll pay a little more at the dentist's office. Teeth whitening is cosmetic, so it's not covered by most insurances. However, we offer financing through third-parties that can be used for whitening and any other dental work needed.

Find a reputable dentist, consult with the doctor, and discuss your treatment plan and all associated costs. A benefit of choosing 1st Choice Dental Centers for teeth whitening is that we offer most, if not all, of the services needed to achieve your ideal smile under one roof!
If you're interested in any of these types of teeth whitening, please give us a call at 678-293-8773 to discuss your options today!
Dr. Vaughn!! She rocks with my kids and they love her too! I would highly recommend her. Highly attentive, patient and excellent care! She has also been wonderful in an emergency situation.
Holly S.
First visit and I was impressed. The office is extremely clean and the staff are all very friendly! I'll definitely be back and I'll definitely refer friends and family!
Cheryl C.
I am not one who would normally enjoy going to a dentist but I have to say that the staff and Dr. Vaughn are some of the friendliest medical people I have ever dealt with.
Carolyn B.
I love this dentist office! Everyone is super friendly and a joy to work with. I also love having the TVs over the dental chairs. Watching HGTV while I get my teeth scrubbed always makes it go a bit quicker!
Jessika D.
Great experience at first choice dental of Kennesaw. I work at a local restaurant and the staff went out of their way to fit me in the schedule very quickly. Don't look any further than 1st Choice Dental of Kennesaw when seeking a Dental Provider.
Pete M.
No waiting! Thorough Dental Exams are given! Experienced and Professional Service was provided by the Qualified Staff at 1st CHOICE DENTAL CARE! I recommend this very courteous office highly.
Arlene T.
Clean, friendly, and efficient! They explain all your options and OOP costs Before anything begins, and they provide options, if available, to reduce costs. Top-notch service!
Greg K.
No long waits, you are called in on or before your appointment time. The staff is extremely friendly, courteous and attentive to all of your needs.
Frank P.
Great doctor... Great bedside manner! Both hygienists are perfect. Everyone including the receptionists are great
Joni I.
Me and my 4 year old come here 2 and I can't say how awesome this place is. They made my son feel comfortable from the 1st time he was there, when he was 3 years old. He is always happy to see them. And Dawn is the best. I love that woman.
Chenoaah
I highly recommend Choice Dental Kennesaw, more specifically- Dr. Stephanie. I promise you won't be disappointed.
Robin G.
I have been going here for about 2 years now and have referred several of my co-workers. They have always been very helpful and quick during my appointments. Would highly suggest.
Jason W.
I'm not a fan of going to the dentist in general, but first choice dental makes it as painless and comfortable as possible. The staff is always very sweet and the vibe is very relaxing. They also do great with my children!
Ashley O.
I love the entire staff Always friendly. They explain everything before it happens. Always asks if there are any questions and makes sure the patient is doing okay.
Meredith K.
The people at 1st Choice Dental are pleasant and professional. They make visiting the dentist a positive experience. :)
Pamela G.