Teeth Whitening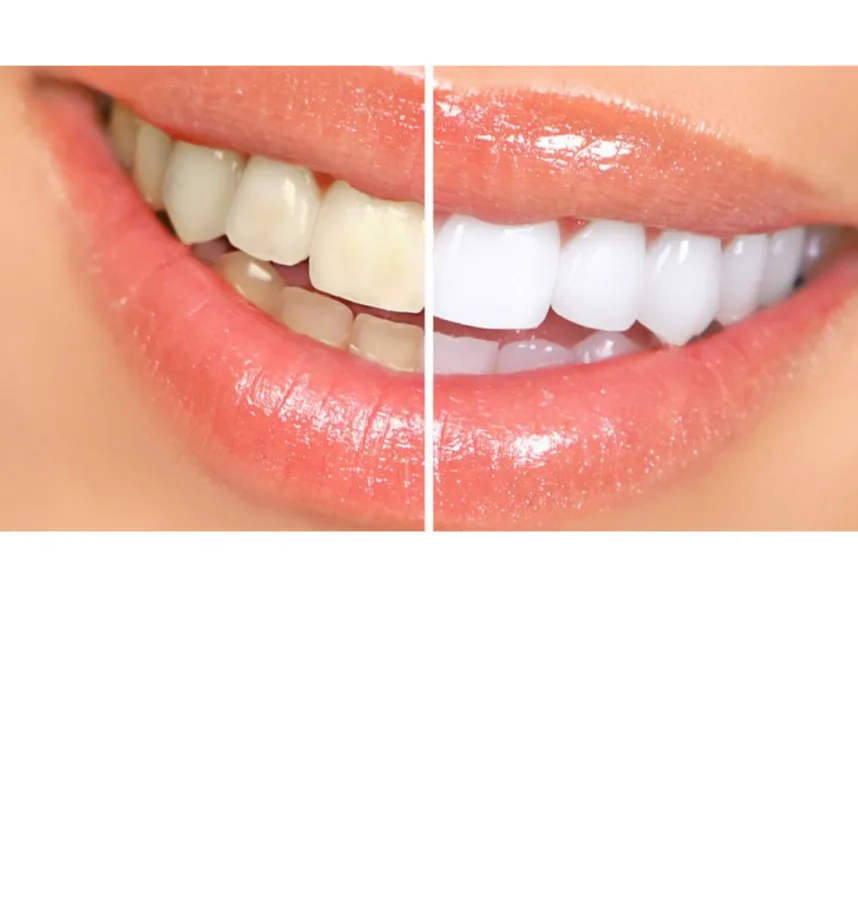 Teeth Whitening Specials
$199 take-home whitening

$349 in-house whitening
$399 bundle
Teeth whitening is a cosmetic dental procedure designed to remove stains and discoloration from teeth, resulting in a brighter, more youthful smile. There are various methods of teeth whitening, including in-office treatments, at-home treatments, and over-the-counter products.
In-office teeth whitening treatments are performed by a dental professional and usually take about an hour to complete. During the treatment, a high-concentration bleaching agent is applied to the teeth, and a special light or laser may be used to enhance the effects of the whitening agent. In-office treatments can provide dramatic results in a short amount of time, but they can also be expensive.
At-home teeth whitening kits are a more affordable alternative to in-office treatments. These kits usually include a lower-concentration bleaching agent, such as carbamide peroxide, and may come with custom-fitted trays or strips that fit over the teeth. The user applies the bleaching agent to the trays or strips and wears them for a designated amount of time, typically for several days or weeks.
Over-the-counter teeth whitening products, such as whitening toothpaste, strips, and gels, are widely available at drugstores and supermarkets. These products contain a lower concentration of bleaching agent than professional treatments, and may take longer to achieve noticeable results. However, they are a convenient and affordable option for people who want to whiten their teeth at home.
While teeth whitening is generally considered safe, it is important to follow the instructions carefully and avoid overuse of whitening products. Overuse can cause tooth sensitivity, gum irritation, and even damage to the enamel. People with sensitive teeth or existing dental problems should consult with a dentist before undergoing any teeth whitening procedure.
In summary, teeth whitening is a popular cosmetic dental procedure that can help improve the appearance of stained or discolored teeth. With various treatment options available, people can choose the method that best suits their needs, budget, and lifestyle. However, it is important to use teeth whitening products responsibly and to consult with a dentist if there are any concerns about dental health.
The cost of teeth whitening will depend on the type of procedure you choose to undergo. In-office procedures will depend on your dentist's pricing. At-home procedures could cost anywhere between $100 and $700, while usually you'll pay a little more at the dentist's office. Teeth whitening is cosmetic, so it's not covered by most insurances. However, we offer financing through third-parties that can be used for whitening and any other dental work needed.

Find a reputable dentist, consult with the doctor, and discuss your treatment plan and all associated costs. A benefit of choosing 1st Choice Dental Centers for teeth whitening is that we offer most, if not all, of the services needed to achieve your ideal smile under one roof!
If you're interested in any of these types of teeth whitening, please give us a call at 678-293-8773 to discuss your options today!
Me and my 4 year old come here 2 and I can't say how awesome this place is. They made my son feel comfortable from the 1st time he was there, when he was 3 years old. He is always happy to see them. And Dawn is the best. I love that woman.
Chenoaah
I have been to this clinic since 2 years and have got excellent treatment. The doctor and the hygienist are very cordial. I would highly recommend 1st choice dental care for your dental checksups.
Anupam B.
Love this dental office! The staff is so caring and the hygienists and dentists are amazing at what they do! They show that they genuinely care about their patients, and I always leave satisfied! I would highly recommend this dental office!
Catie B.
Friendly staff...went in for a root canal and came out with no pain...they were able to fit me in last minute...so far no complaints.
Jackie P.
I have a severe dentist phobia but 1st Choice Dental Care staff is awesome! I no longer need to be sedated ...yay :) I love the staff here and sort of look forward to my cleanings :)
Stephanie D.
Staff is very helpful. They work with you to help Make appointments that fit into your schedule. They help work with you and your insurance company so it is less stressful. They listen to your concerns and do their best to accommodate you.
Stacy C.
Always extremely friendly and efficient. They do a great job with all-around dental work. Dr. Stephanie and Ashley have been taking great care of me for several years.
Bill Balkcom
The whole staff was great! Front desk-Amanda, my dental hygienist Aubrey and Dr. McRee. Great Customer Service by all!
Jason M.
All of the staff and doctors have been so friendly, and do not try to upsell you. I originally came here for a second opinion and have stuck with them ever since! The office is clean and always smells nice.
Ashley C.
Great doctor... Great bedside manner! Both hygienists are perfect. Everyone including the receptionists are great
Joni I.
I'm not a fan of going to the dentist in general, but first choice dental makes it as painless and comfortable as possible. The staff is always very sweet and the vibe is very relaxing. They also do great with my children!
Ashley O.
Terrified of the dentist and put it off for many years. Never felt more comfortable and relaxed than I did at this office. They were so professional and very nice. Highly recommend!!
Eric M.
My first experience with 1st Choice Dental Care - Kennesaw was excellent. The entire office was friendly and helpful. The hygienist and the Dr. made me very comfortable and took good care of me. I would highly recommend people to visit this office.
Sabia S.
No waiting! Thorough Dental Exams are given! Experienced and Professional Service was provided by the Qualified Staff at 1st CHOICE DENTAL CARE! I recommend this very courteous office highly.
Arlene T.
The Restore in 24 procedure has honestly given me my life back, it gave me a smile in 48 hours… I walked out with a beautiful smile.
Brett