Tooth Extractions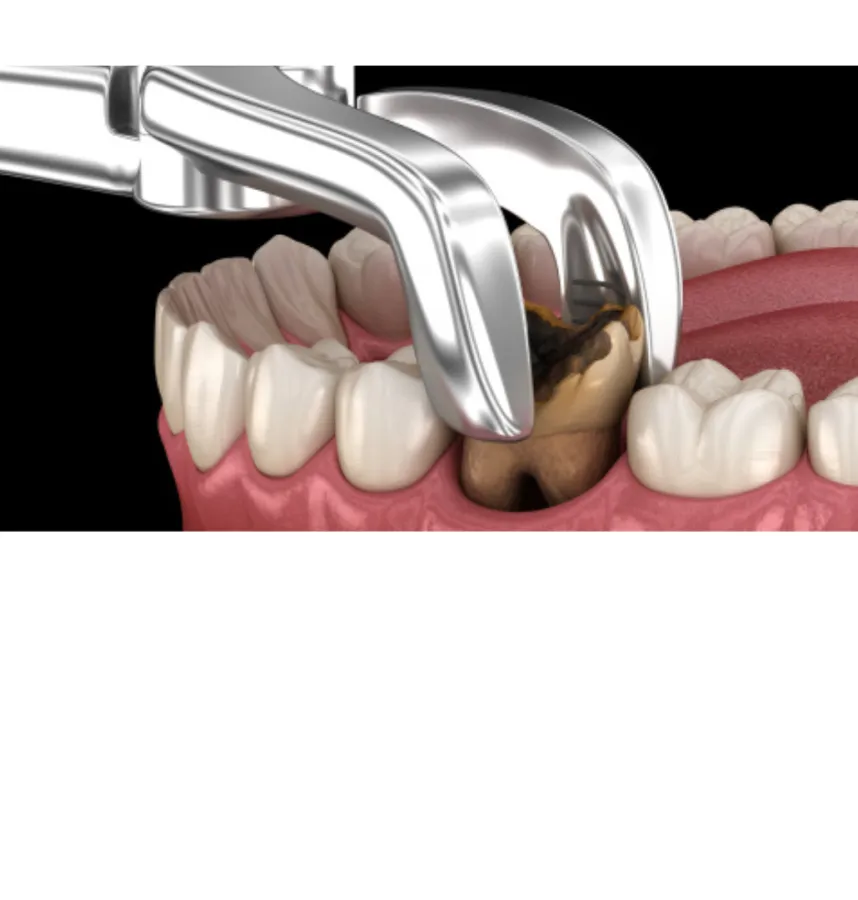 Crowns & Bridges
Tooth extraction is a dental procedure in which a dentist or oral surgeon removes a tooth from the socket in the jawbone. Tooth extraction may be recommended if a tooth is damaged or decayed beyond repair, causing pain or infection, or if it is causing crowding or other issues with the alignment of the teeth.
The procedure is typically performed under local anesthesia, which numbs the area around the tooth. The dentist or oral surgeon will then use specialized tools to gently loosen the tooth from the socket, and remove it. In some cases, the tooth may need to be sectioned or broken into smaller pieces for easier removal.
After the extraction, the patient will be given instructions on how to care for the area to promote healing and prevent infection. It is important to follow these instructions carefully to ensure proper healing and minimize the risk of complications.
In some cases, the dentist or oral surgeon may recommend a dental implant or bridge to replace the missing tooth. This can help to restore function and appearance to the mouth, as well as prevent other dental issues that can arise from missing teeth.
Tooth extractions are a common dental procedure and are generally safe and effective when performed by a trained and experienced dentist or oral surgeon. However, like any medical procedure, there are some risks and potential complications associated with tooth extractions, including infection, bleeding, and damage to surrounding teeth or tissue. It is important to discuss the risks and benefits of tooth extraction with your dentist or oral surgeon before undergoing the procedure.
The cost of an extraction can vary depending on what type of extraction it is, surgical or non-surgical, and where you're located. They can range from $100-$600 per tooth. Dental insurance may cover some of the procedures involved, depending on the specific treatments needed, if it's deemed medically necessary or cosmetic, and the coverage provided by the insurance plan. However, it's important to note that cosmetic dentistry procedures are often not covered by dental insurance since they are considered elective and not medically necessary. In such cases, patients may need to pay for these procedures out of pocket. It's recommended that patients review their dental insurance policy or speak with their insurance provider to determine what is covered and what is not. Patients may also want to discuss their options for financing with us, such as third-party financing options, to help cover the cost of extractions.
Find a reputable dentist, consult with the doctor, and discuss your treatment plan and all associated costs. A benefit of choosing 1st Choice Dental Centers for your extractions is that we offer most, if not all, of the services needed to achieve your ideal smile under one roof!
If you're interested in either a crown or bridge, please give us a call at 678-293-8773 to discuss your options today!

I normally hate going to the dentist, but Dawn is great, and makes the experience as nice as possible. The staff is always so nice. I'd recommend 1st Choice to anyone.
Drew S.
Very friendly staff, excellent service. They made the whole experience very pleasant and warm! Highly recommend.
Shannon M.
My husband and I have been so happy with 1st Choice Dental! Ashley always does such a thorough cleaning...she's wonderful! The staff is friendly and very helpful.
Andrea H.
I have terrible dentist anxiety and they were beyond understanding and went at a slow pace to keep me comfortable. I was a fan-based on my first impression.
JoBeth G.
My first experience with 1st Choice Dental Care - Kennesaw was excellent. The entire office was friendly and helpful. The hygienist and the Dr. made me very comfortable and took good care of me. I would highly recommend people to visit this office.
Sabia S.
Dr. Vaughn and staff are great! They can help you with all your dental needs. If you need a cleaning, a cavity filled, root canal, or your wisdom teeth removed they can make it happen.
Donald M.
Dr. Vaughn!! She rocks with my kids and they love her too! I would highly recommend her. Highly attentive, patient and excellent care! She has also been wonderful in an emergency situation.
Holly S.
I will never dread going to the dentist again! The folks at First Choice Dental in Woodstock are amazing!!! Amanda, Amy and Dr. McRee are the best!!
Carrie J.
Once again a first rate experience. Sat down in the chair right on time. The friendly and professional staff took care of my implant crown without any issues or delays. Quality of the work is great. Highly recommend this business.
Dick H.
Great place, always have a wonderful experience. They are helpful with the billing and getting the right service.
Michael S.
I have only positive things to say about excellent Dr. Vaughn and her friendly and well-trained team. They were encouraging, and amusing, and worked fast, which I appreciate. They communicate well and I felt well taken care of. Highly recommended
Eugene C.
It was a great experience! The office staff was awesome, the doctor was great, and the price for the services I received was very reasonable. I would highly recommend them to anyone!
Jena S.
I have a severe dentist phobia but 1st Choice Dental Care staff is awesome! I no longer need to be sedated ...yay :) I love the staff here and sort of look forward to my cleanings :)
Stephanie D.
Great atmosphere and friendly staff. I did not feel rushed and I did not have to wait a long time to be seen. Very impressed.
Carl Y.
The staff was very friendly. Dr. Kelly really cares about her patients. It is a great place to get dental care.
TJ L.