Tooth Extractions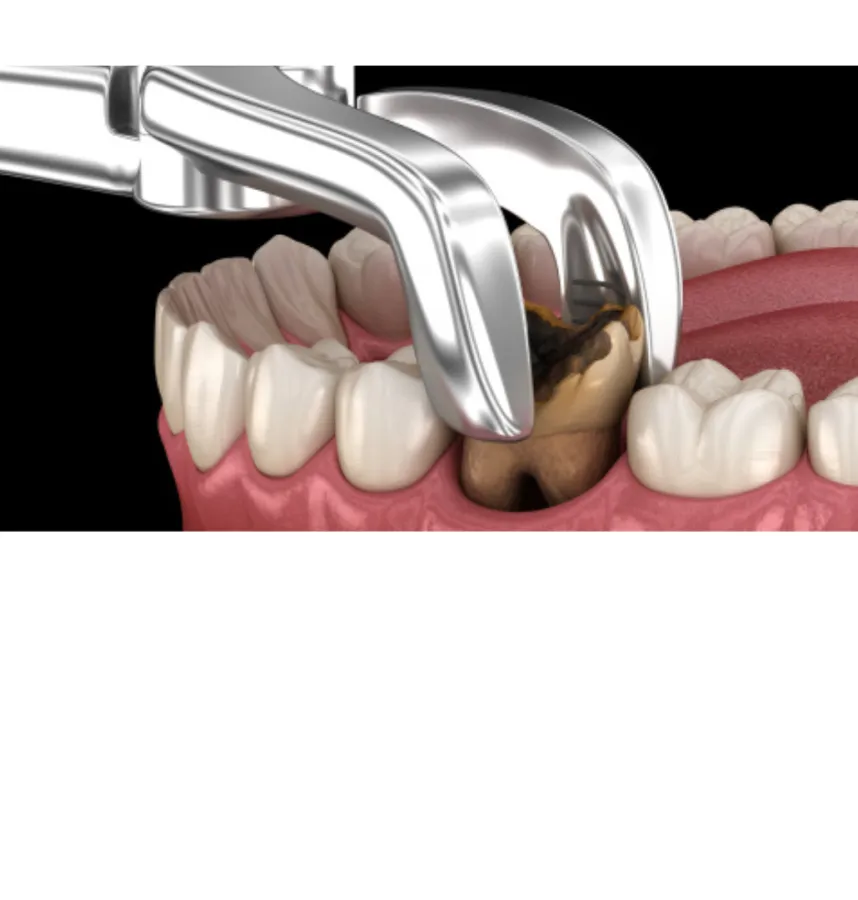 Crowns & Bridges
Tooth extraction is a dental procedure in which a dentist or oral surgeon removes a tooth from the socket in the jawbone. Tooth extraction may be recommended if a tooth is damaged or decayed beyond repair, causing pain or infection, or if it is causing crowding or other issues with the alignment of the teeth.
The procedure is typically performed under local anesthesia, which numbs the area around the tooth. The dentist or oral surgeon will then use specialized tools to gently loosen the tooth from the socket, and remove it. In some cases, the tooth may need to be sectioned or broken into smaller pieces for easier removal.
After the extraction, the patient will be given instructions on how to care for the area to promote healing and prevent infection. It is important to follow these instructions carefully to ensure proper healing and minimize the risk of complications.
In some cases, the dentist or oral surgeon may recommend a dental implant or bridge to replace the missing tooth. This can help to restore function and appearance to the mouth, as well as prevent other dental issues that can arise from missing teeth.
Tooth extractions are a common dental procedure and are generally safe and effective when performed by a trained and experienced dentist or oral surgeon. However, like any medical procedure, there are some risks and potential complications associated with tooth extractions, including infection, bleeding, and damage to surrounding teeth or tissue. It is important to discuss the risks and benefits of tooth extraction with your dentist or oral surgeon before undergoing the procedure.
The cost of an extraction can vary depending on what type of extraction it is, surgical or non-surgical, and where you're located. They can range from $100-$600 per tooth. Dental insurance may cover some of the procedures involved, depending on the specific treatments needed, if it's deemed medically necessary or cosmetic, and the coverage provided by the insurance plan. However, it's important to note that cosmetic dentistry procedures are often not covered by dental insurance since they are considered elective and not medically necessary. In such cases, patients may need to pay for these procedures out of pocket. It's recommended that patients review their dental insurance policy or speak with their insurance provider to determine what is covered and what is not. Patients may also want to discuss their options for financing with us, such as third-party financing options, to help cover the cost of extractions.
Find a reputable dentist, consult with the doctor, and discuss your treatment plan and all associated costs. A benefit of choosing 1st Choice Dental Centers for your extractions is that we offer most, if not all, of the services needed to achieve your ideal smile under one roof!
If you're interested in either a crown or bridge, please give us a call at 678-293-8773 to discuss your options today!

Friendly staff...went in for a root canal and came out with no pain...they were able to fit me in last minute...so far no complaints.
Jackie P.
Love the ladies and service at the Kennesaw 1st Choice Dental. Ashley and Dr. Stephanie always take great care of my family. I truly appreciate how they encourage my teenage boys to stay on track with their dental care. It's working....😉
Yvonne B.
Always an enjoyable experience at 1st Choice Dental. Thank you so much, Dr. McRee and Dusty for making me so comfortable today.
Meshana T.
Once again a first rate experience. Sat down in the chair right on time. The friendly and professional staff took care of my implant crown without any issues or delays. Quality of the work is great. Highly recommend this business.
Dick H.
They are friendly and efficient and will put you at ease immediately. I recommend them with every bell and whistle at my disposal! You will NOT be disappointed!
Ronwixziv B.
Great doctor... Great bedside manner! Both hygienists are perfect. Everyone including the receptionists are great
Joni I.
Wow! so much to say. Starting with Amy, she was knowledgeable and caring! Dr.McRee was straight-forward and to the point! thank you! Checking out was easy with Sydney. 1st choice dental is a class act!!
Jason E.
Friendly, gentle and caring. Great experience. Dr. Stephanie Fransoso did a great job with my crown, I felt comfortable and she was sensitive to my needs.
Susi
Love the staff at the Woodstock office. They are always so friendly and welcoming and make each visit a very positive experience. I highly recommend them.
Kristen G.
This is my new family. Everyone I know should come see these wonderful ladies. I hated the dentist before I came here. It only took one visit to feel the love. Thanks for making me smile again.
Jacquelyn E.
I highly recommend Choice Dental Kennesaw, more specifically- Dr. Stephanie. I promise you won't be disappointed.
Robin G.
Very professional, personable and down to earth staff. Took their time to go over everything, our options and pricing.
Chris W.
The girls up front make or break your business. These girls make this office. They are kind, thoughtful and friendly.
Wade S.
The Woodstock location and Dr. McRee were so great and my implant procedure involved minimal discomfort. Thank you all so much!
Labor M.
No long waits, you are called in on or before your appointment time. The staff is extremely friendly, courteous and attentive to all of your needs.
Frank P.