Inlays and Onlays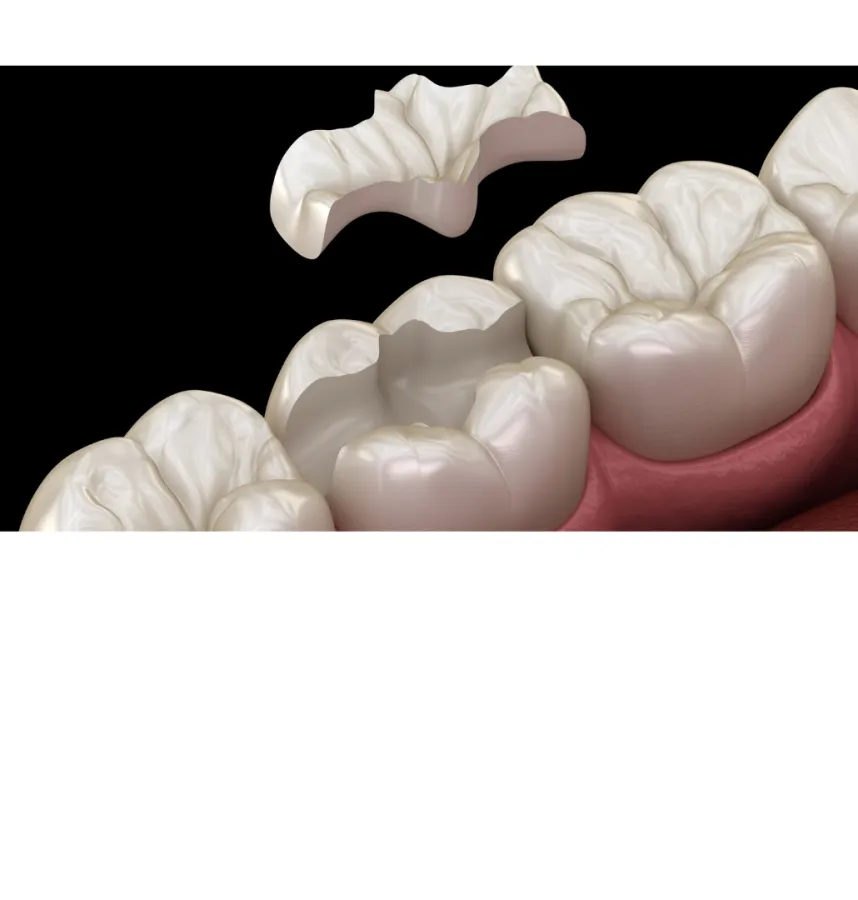 Inlays and onlays are types of indirect dental restorations that are used to repair damaged or decayed teeth. They are often used as an alternative to traditional fillings when a tooth has a large cavity or other damage that cannot be repaired with a filling alone.
Inlays and onlays are similar in many ways, but they differ in the extent of coverage they provide for the damaged tooth. Inlays are designed to fit into the grooves or depressions on the chewing surface of a tooth, while onlays are designed to cover the chewing surface of the tooth as well as one or more of its cusps (the raised points on the surface of the tooth).
Both inlays and onlays are typically made of durable materials such as ceramic or porcelain, which are custom-made in a dental laboratory to fit the exact contours of the damaged tooth. They are then bonded to the tooth with a special adhesive, which helps to strengthen and protect the tooth from further damage.
The process of getting an inlay or onlay typically requires two visits to the dentist. During the first visit, the dentist will prepare the tooth by removing any decayed or damaged material and taking an impression of the tooth to send to the dental lab. The dentist will then place a temporary filling on the tooth to protect it until the permanent restoration is ready.
At the second visit, the temporary filling will be removed and the permanent inlay or onlay will be bonded to the tooth. The dentist will then check the fit and make any necessary adjustments to ensure that the restoration fits properly and does not interfere with the patient's bite.
Inlays and onlays offer several advantages over traditional fillings, including greater durability, better aesthetics, and the ability to preserve more of the natural tooth structure. They are also more resistant to staining and wear, making them a good option for patients who want a long-lasting restoration that will maintain its appearance over time.
If you have a damaged or decayed tooth and are considering an inlay or onlay as a restoration option, talk to your dentist to see if this treatment is right for you.
Inlays and onlays can range in cost depending on what materials are used, and where you're located. They can range from $700-$1500 per tooth. Dental insurance may cover a portion of the cost of dental inlays and onlays, depending on the individual policy. Patients should check with their insurance provider to determine their coverage and out-of-pocket costs. If not covered by insurance we offer financing through third-parties that can be used for inlays and onlays and any other dental work needed.
Find a reputable dentist, consult with the doctor, and discuss your treatment plan and all associated costs. A benefit of choosing 1st Choice Dental Centers for your inlays and onlays is that we offer most, if not all, of the services needed to achieve your ideal smile under one roof!
If you're interested in an inlay or onlay, please give us a call at 678-293-8773 to discuss your options today!
I DO NOT LIKE GOING TO THE DENTIST- and my visit to 1st Choice was the best dentist experience I have ever had! My hygienist was so nice!! And Dr. Orza was very pleasant as well. I would recommend this dentist to anyone in the Kennesaw area!
Devin P.
Who can say they love going to the dentist? But, the renovations are very nice, our service was very good and it was a pleasant experience. Everyone was very helpful.
Robert D.
Love this dental office! The staff is so caring and the hygienists and dentists are amazing at what they do! They show that they genuinely care about their patients, and I always leave satisfied! I would highly recommend this dental office!
Catie B.
Everyone is FANTASTIC!!! I absolutely love how they make you feel comfortable right away and they are very personable.
Carrie H.
Great experience at first choice dental of Kennesaw. I work at a local restaurant and the staff went out of their way to fit me in the schedule very quickly. Don't look any further than 1st Choice Dental of Kennesaw when seeking a Dental Provider.
Pete M.
Outstanding service every time! I'm a long time customer and they take great care of my teeth. They truly believe that the customer comes first.
Ken M.
I highly recommend Choice Dental Kennesaw, more specifically- Dr. Stephanie. I promise you won't be disappointed.
Robin G.
I'm not a fan of going to the dentist in general, but first choice dental makes it as painless and comfortable as possible. The staff is always very sweet and the vibe is very relaxing. They also do great with my children!
Ashley O.
Ali entered the world of Adult dentists today! It was an awesome experience and she felt so comfortable! Definitely a wonderful move! So glad we have Dr. Vaughn and her fabulous staff!
Janet G.
Great place they made me feel welcomed from the first initial phone call to the moment I left my first apt. They explained all my options and came up with a plan to replace some teeth that have gone bad over the years.
Corey C.
Have been using them for the last year and a half. Went in yesterday for a crown. All the employees are nice and Dr. Orza does a great job. Highly recommend!
Justin M.
The staff at first choice are polite and kind and very helpful. They make you feel comfortable and help to make your dental experience memorable. They are super sweet! I would definitely recommend them to anyone!
Patti J.
The girls up front make or break your business. These girls make this office. They are kind, thoughtful and friendly.
Wade S.
Always extremely friendly and efficient. They do a great job with all-around dental work. Dr. Stephanie and Ashley have been taking great care of me for several years.
Bill Balkcom
Dr. Emil Orza did a great job. Procedure was quick and efficient. Listened to my needs and accommodated them without fuss.
Becky H.