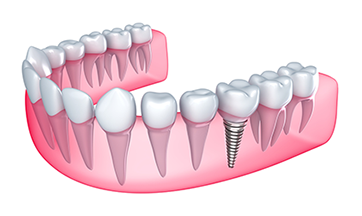 Tooth loss can happen to anyone. Gum disease continues to be one of the leading causes of tooth loss among adults according to the Centers for Disease Control and Prevention (CDC), but accidents and trauma can also cause unexpected tooth loss. Missing teeth can ruin your smile, but they can also cause oral health problems down the road. The good news is that there are a number of options available to restore your smile and oral health. The dentists at 1st Choice Dental in Woodstock and Kennesaw, GA, recommend dental implants for healthy adult patients who can commit to good oral hygiene practices and ongoing follow up dental care.
Get a Brand New Smile with Dental Implants in Woodstock and Kennesaw, GA
Implants consist of the implant and a cosmetic crown. In order to qualify for implants, adults must be in good overall health, and have enough bone density in the gums to support the implant, which will fuse with the surrounding bone tissue after it is surgically placed in the socket of the missing tooth. The implant is a small titanium screw that acts as the root to which the crown is attached through an abutment.
Implants are the only restoration available that replaces the entire structure of a missing tooth from root to crown. In addition to making the crown more secure, implants help to prevent bone loss in the gums, which begins as soon as a tooth falls out. With good oral hygiene and follow up care, implants have a very high success rate and are designed to be a permanent replacement for a missing tooth. Implants can be used to replace a single tooth to an entire set of dentures for full tooth loss.
Find a Dentist in Woodstock and Kennesaw, GA
To learn more about dental implants and whether they are the right dental restoration option for you, contact 1st Choice Dental today to schedule an appointment with one of our dentists by calling (678) 293-8773 in Kennesaw or Woodstock.