Removable Dentures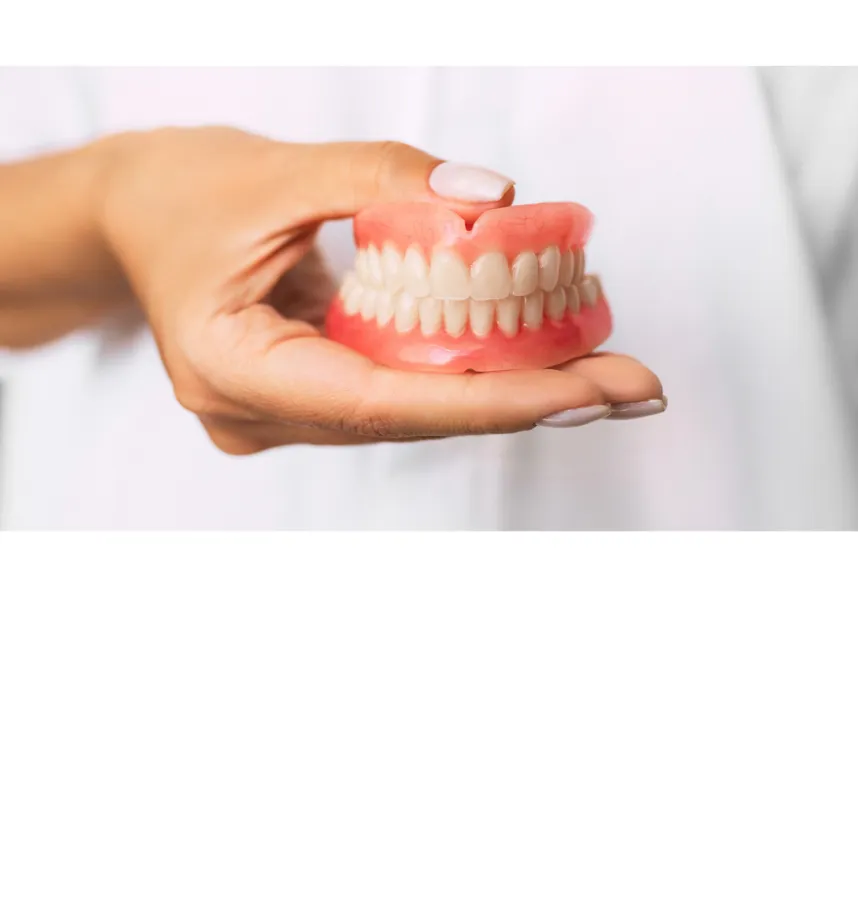 Traditional removable dentures are a common dental solution for people who have lost some or all of their natural teeth. These dentures are designed to fit over the gums and jawbone, and are removable for cleaning and maintenance.
The process of getting traditional removable dentures typically involves multiple dental appointments. During the first appointment, the dentist will take impressions of the patient's mouth and jawbone, as well as measurements to ensure a proper fit. The dentist may also take photos and x-rays to help with the denture design.
Once the dentures are fabricated in a dental laboratory, the patient will return to the dentist's office for fitting and adjustments. The dentist may need to adjust the shape or fit of the dentures to ensure they are comfortable and functional.
While traditional removable dentures can provide a cost-effective solution for tooth loss, they can also have some drawbacks. The dentures may feel bulky or uncomfortable, and may require a period of adjustment for the patient to get used to them. Some patients may experience difficulty speaking or eating with the dentures, and they may need to be adjusted or replaced over time as the shape of the jawbone changes.
It is important for patients with traditional removable dentures to maintain good oral hygiene habits, including daily cleaning of the dentures and regular dental checkups. They should also avoid eating sticky or hard foods that could damage the dentures or cause them to slip out of place.
Overall, traditional removable dentures can be a viable option for patients who have lost some or all of their natural teeth. However, patients should be aware of the potential drawbacks and the better options that exist now, and work closely with their dentist to ensure the dentures fit properly and are comfortable and functional.
Dentures can range in cost depending on what materials are used and where you're located. They can range from $1400-$2200 per arch. Dental insurance may cover the cost of dentures, depending on the individual policy. Patients should check with their insurance provider to determine their coverage and out-of-pocket costs. If not covered by insurance we offer financing through third-parties that can be used for dentures and any other dental work needed.
Find a reputable dentist, consult with the doctor, and discuss your treatment plan and all associated costs. A benefit of choosing 1st Choice Dental Centers for your dentures is that we offer most, if not all, of the services needed to achieve your ideal smile under one roof!
If you're in need of dentures, please give us a call at 678-293-8773 to discuss your options today!
Me and my 4 year old come here 2 and I can't say how awesome this place is. They made my son feel comfortable from the 1st time he was there, when he was 3 years old. He is always happy to see them. And Dawn is the best. I love that woman.
Chenoaah
Great doctor... Great bedside manner! Both hygienists are perfect. Everyone including the receptionists are great
Joni I.
All the staff was friendly and helpful. Everything was explained to me. So glad I've got "my" dentist now!!
Suzanne D.
If you're looking for a great dental office with a top notch professional team who are courteous and genuinely happy to see you, look no more! Excellent customer service! They really care about you having the best experience!
Joy B.
The staff was very friendly. Dr. Kelly really cares about her patients. It is a great place to get dental care.
TJ L.
No waiting! Thorough Dental Exams are given! Experienced and Professional Service was provided by the Qualified Staff at 1st CHOICE DENTAL CARE! I recommend this very courteous office highly.
Arlene T.
If you're in the Woodstock, GA area looking for a dentist, check out 1st Choice Dental Care! Friendly, quality care and awesome flexibility in scheduling!
Joe B.
I have been going to First Choice for 2 years and they are not only a great dental practice, but a wonderful, friendly group of people. Aubrey always makes me feel comfortable.
Emily M.
This has been by far the best experience for my son whom is terrified of the dentist. Dr. Stephanie and her staff were wonderful to both my son and daughter.
Tiffany P.
Dr. Vaughn's staff is friendly, comforting and gentle. The office is very clean and welcoming making them this our new family dentist. Dr. Vaughn is helpful, knowledgeable and very friendly. I recommend 1st Choice Dental to anyone.
Joelle J.
My husband and I have been so happy with 1st Choice Dental! Ashley always does such a thorough cleaning...she's wonderful! The staff is friendly and very helpful.
Andrea H.
I'm not a fan of going to the dentist in general, but first choice dental makes it as painless and comfortable as possible. The staff is always very sweet and the vibe is very relaxing. They also do great with my children!
Ashley O.
From the moment I walked into 1st Choice Dental Care, I experienced southern hospitality at its finest. Amanda, Amy, and Dr. Vaughn treated me with such great care! I look forward to coming back here for many years!!
Crystal L.
Have been using them for the last year and a half. Went in yesterday for a crown. All the employees are nice and Dr. Orza does a great job. Highly recommend!
Justin M.
Everyone makes the experience very enjoyable and comfortable. And they are very knowledgeable and caring.
Judy C.