Smile Makeovers
Get The Hollywood Smile You Want And Deserve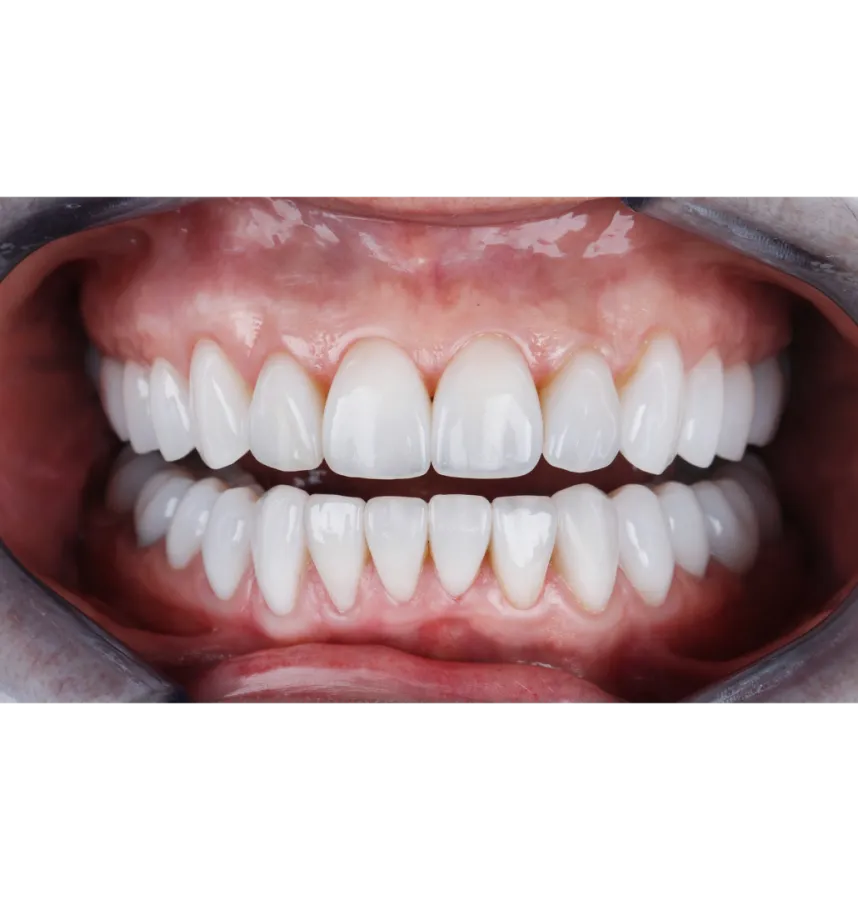 Smile Makeover
A dental smile makeover is a cosmetic dentistry procedure that focuses on enhancing the appearance of a patient's smile through various dental treatments. The goal of a smile makeover is to create a smile that is natural-looking, healthy, and aesthetically pleasing to the patient.
The first step in a dental smile makeover is a consultation with a cosmetic dentist. During this consultation, the dentist will evaluate the patient's oral health, discuss their concerns and goals for their smile, and recommend the most appropriate treatments.
Depending on the patient's needs, a smile makeover may involve a combination of treatments such as teeth whitening, dental bonding, dental veneers, dental crowns, dental implants, and orthodontics. The specific treatments used in a smile makeover will depend on the patient's unique needs and desired outcomes.
Teeth whitening is a common treatment used in a smile makeover to remove stains and discoloration from the teeth, resulting in a brighter, whiter smile. Dental bonding and veneers are used to repair chips, cracks, and other imperfections in the teeth, while dental crowns and implants can replace missing or severely damaged teeth.
Orthodontics, such as braces or clear aligners, can also be used as part of a smile makeover to straighten crooked or misaligned teeth, resulting in a more even and symmetrical smile.
The length of a smile makeover varies depending on the treatments used and the extent of the patient's dental issues. Some patients may require multiple visits to complete their smile makeover, while others may be able to achieve their desired results in just one or two appointments.
Overall, a dental smile makeover can have a significant impact on a patient's self-confidence and quality of life. By improving the appearance of their smile, patients may feel more comfortable and confident in social situations, leading to increased happiness and success in both their personal and professional lives.
The cost of a smile makeover can vary, depending on the procedures needed. Dental insurance may cover some of the procedures involved in a smile makeover, depending on the specific treatments needed and the coverage provided by the insurance plan. For example, dental insurance may cover the cost of fillings, crowns, or orthodontic treatment such as braces. However, it's important to note that cosmetic dentistry procedures, such as teeth whitening or veneers, are often not covered by dental insurance since they are considered elective and not medically necessary. In such cases, patients may need to pay for these procedures out of pocket. It's recommended that patients review their dental insurance policy or speak with their insurance provider to determine what is covered and what is not. Patients may also want to discuss their options for financing with us, such as third-party financing options, to help cover the cost of a smile makeover.
Find a reputable dentist, consult with the doctor, and discuss your treatment plan and all associated costs. A benefit of choosing 1st Choice Dental Centers for your smile makeover is that we offer most, if not all, of the services needed to achieve your ideal smile under one roof!
If you're interested in receiving a smile makeover, please give us a call at 678-293-8773 to discuss your options today!

I will never find a better dentist office. They have a few locations but I visit the one in Kennesaw. Great and knowledgeable staff all around.
Rebecca W.
Very friendly, knowledgeable staff who went the extra mile for me and my son. Definitely will be back!
Amanda A.
It was a great experience! The office staff was awesome, the doctor was great, and the price for the services I received was very reasonable. I would highly recommend them to anyone!
Jena S.
This is the best place I've been to! everyone is always super nice. my hygienist is the sweetest & is the main reason I keep coming back.
Hannah S.
I have been a patient here for over 10 years and the service and quality has been top-notch every time I come in. Dr. Vaughn, Aubrey, and the whole staff are so awesome and put you at ease!
Natalie W.
This Dental office staff is just amazing!!, yesterday was my first time ever coming and i have found my new dentist.!!, The stuff is very friendly, I felt like I have known them for awhile. This is most def a 5+ stars.
Dahnn H.
Always extremely friendly and efficient. They do a great job with all-around dental work. Dr. Stephanie and Ashley have been taking great care of me for several years.
Bill Balkcom
1st choice Dental care is the best. Professional and highly educated Dentist and assistants. All work is satisfaction guaranteed. All the staff is friendly and courteous. I recommend it highly. I recommend 5 stars plus.
Nonalee B.
Dr. Stephanie is great!! She is gentle, caring and listens to her patients concerns. She and her staff make you feel very comfortable with any procedure they are doing. I highly recommend Dr. Stephanie!
Shiona B.
Who can say they love going to the dentist? But, the renovations are very nice, our service was very good and it was a pleasant experience. Everyone was very helpful.
Robert D.
On a scale of 1 to 10....you're all at least a 25! Never disappointed with the care and service I receive.
Glen A.
Love the staff at the Woodstock office. They are always so friendly and welcoming and make each visit a very positive experience. I highly recommend them.
Kristen G.
Great first visit. Staff is friendly and knowledgeable. Seem to be on the ball with military insurance policy, which is a huge plus!
R. Browning
I was so nervous but these people are sooooo friendly! No one like the dentist but they really made things easier to swallow.
Jade N.
I have been going here for about 2 years now and have referred several of my co-workers. They have always been very helpful and quick during my appointments. Would highly suggest.
Jason W.