Sealants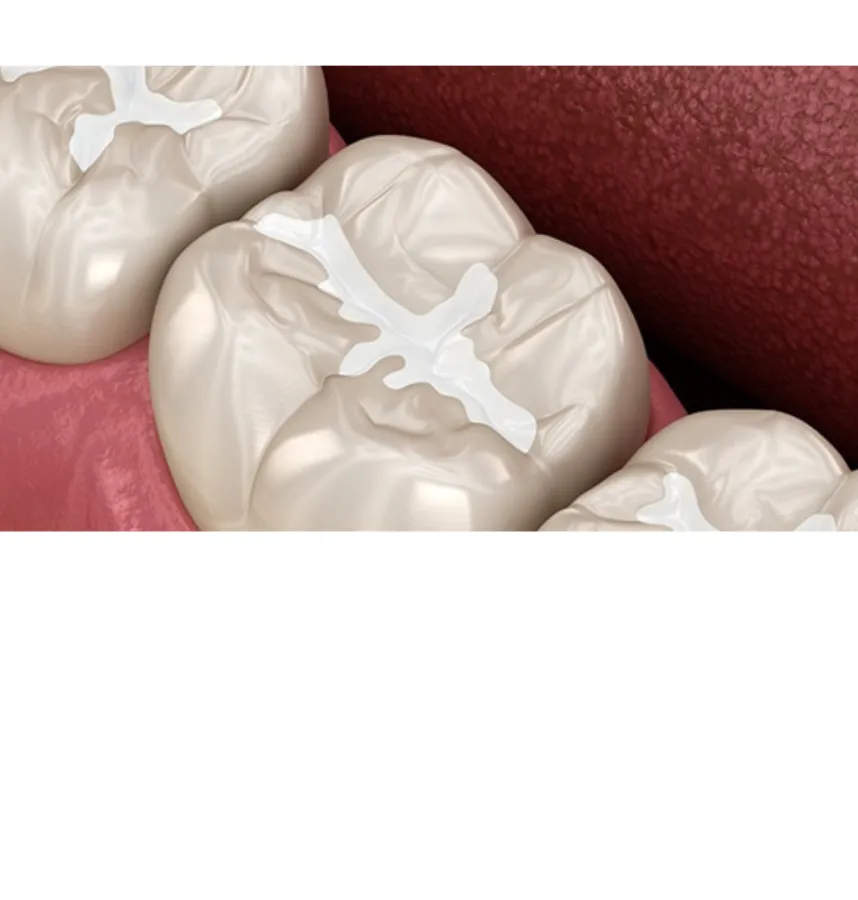 Sealants
Dental sealants are a preventative dental treatment that can be applied to the chewing surfaces of the back teeth (molars and premolars) to protect them from decay. These surfaces have deep grooves and crevices that can be difficult to clean, making them more susceptible to decay. Sealants are a thin, plastic coating that is applied to these surfaces to create a barrier between the teeth and harmful bacteria.
Sealants are most commonly used on children and teenagers, as they are more prone to developing cavities in their back teeth. However, adults may also benefit from sealants if they have deep grooves or fissures in their teeth that are difficult to clean.
The sealant application process is simple and painless. First, the teeth are cleaned and dried. Then, an acidic gel is applied to the chewing surfaces of the teeth to help the sealant bond to the enamel. The gel is rinsed off, and the teeth are dried again. Finally, the sealant is applied to the teeth and hardened with a special light.
Sealants can last up to 10 years with proper care and maintenance. It is important to continue practicing good oral hygiene habits, such as brushing and flossing regularly, to keep the sealants in good condition.
Sealants are a safe and effective way to protect teeth from decay. They are non-invasive and can be completed in just one dental visit. Sealants are also relatively inexpensive compared to other dental treatments and can help save money on future dental procedures by preventing the need for fillings or other restorative treatments. If you are interested in sealants for yourself or your child, talk to your dentist to see if they are a good option for you.
The cost of dental sealants can vary depending on several factors, including the number of teeth being sealed, the location of the dental practice, and the experience of the dentist. On average, the cost of sealants can range from $30 to $60 per tooth.

Many dental insurance plans cover the cost of sealants, especially for children and teenagers. However, it is always best to check with your insurance provider to confirm coverage.
If you do not have dental insurance, there may be other options available to help reduce the cost of sealants. Some dental practices offer financing plans or discounts for cash payments. Additionally, some community health centers or non-profit organizations may offer free or low-cost dental services for those in need.
While the cost of sealants may seem like an additional expense, it is important to remember that they can help prevent the need for more expensive dental procedures in the future. By protecting the teeth from decay, sealants can help save money on fillings, crowns, or other restorative treatments down the line.
Overall, the cost of sealants is a worthwhile investment in your dental health. Talk to your dentist to learn more about the cost of sealants and whether they are a good option for you or your child.
Find a reputable dentist, consult with the doctor, and discuss your treatment plan and all associated costs. A benefit of choosing 1st Choice Dental Centers for your child's sealants is that we offer most, if not all, of the services needed to achieve your ideal smile under one roof!

very patient, kind and compassionate and they do not force services on you. Everyone is polite and friendly.
Judith A.
I have terrible dentist anxiety and they were beyond understanding and went at a slow pace to keep me comfortable. I was a fan-based on my first impression.
JoBeth G.
I hate going to the dentist but Dr. Vaughn and the staff at 1st Choice always make sure I'm comfortable and my needs are met. Would send anyone that needs any kind of dental work done to them.
Bonnie K.
They are friendly and efficient and will put you at ease immediately. I recommend them with every bell and whistle at my disposal! You will NOT be disappointed!
Ronwixziv B.
I see Dr. Vaughn at the Woodstock location. She and her staff are very friendly and professional. I definitely recommend this practice.
Sandra C.
I've never had a better cleaning and I've never felt as confident and comfortable with a dentist. Everyone in this office will make you feel very comfortable. They are very friendly, professional and extremely efficient.
Becky B.
Professional, courteous, friendly, empathetic. Great staff! I will gladly return for future dental needs.
Wayne C.
Great place they made me feel welcomed from the first initial phone call to the moment I left my first apt. They explained all my options and came up with a plan to replace some teeth that have gone bad over the years.
Corey C.
Great experience. The welcome staff was very inviting even at 7 in the morning. I usually hate going to the dentist, but I felt very comfortable here with Dr. Orza. Very pleased and happy to report I no longer am in pain.
Kiki R.
Awesome staff and Kelly is an awesome dentist! I hate going to the dentist since childhood but they are awesome here!
Darren F.
Dr. Vaughn!! She rocks with my kids and they love her too! I would highly recommend her. Highly attentive, patient and excellent care! She has also been wonderful in an emergency situation.
Holly S.
The service at 1st choice dental is fantastic. I feel very comfortable whenever I go and I really like the staff. They don't judge you and that makes a big difference to a lot of people.
Daniel P.
I have been going here for about 2 years now and have referred several of my co-workers. They have always been very helpful and quick during my appointments. Would highly suggest.
Jason W.
First visit and I was impressed. The office is extremely clean and the staff are all very friendly! I'll definitely be back and I'll definitely refer friends and family!
Cheryl C.
Love the staff and mostly Dr. Vaughn. Dr. Vaughn always treats me with respect and acknowledges that it is MY mouth and I can make the decisions about my care.
Lori B.