Root Canal Therapy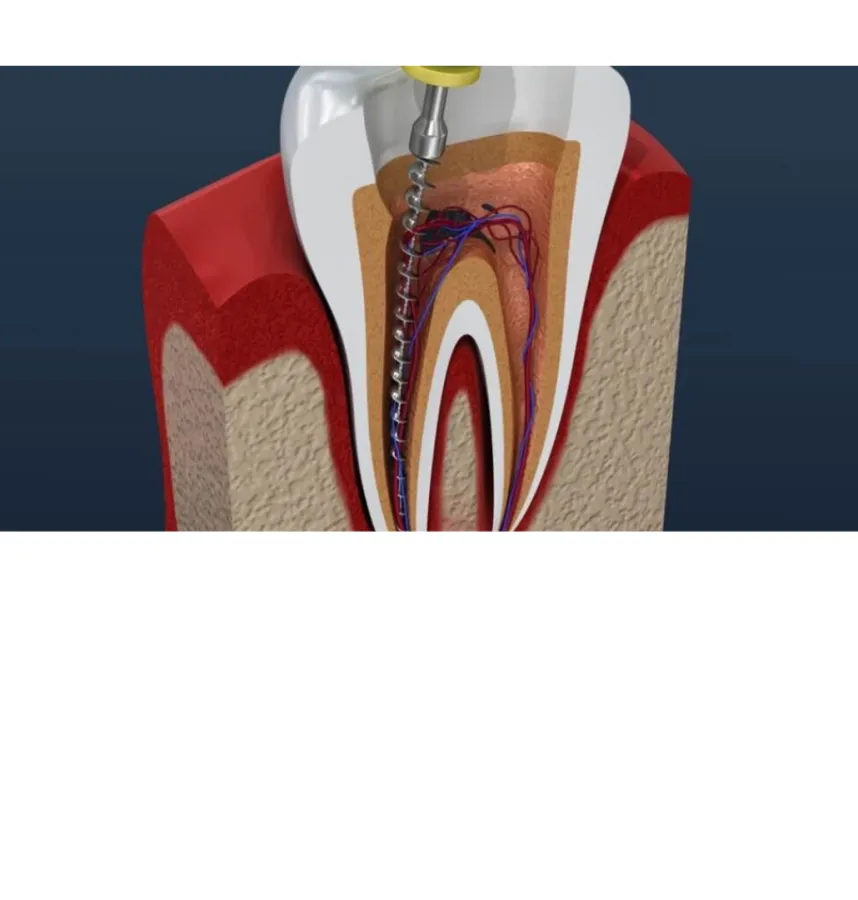 Root canal therapy, also known as endodontic treatment, is a dental procedure that involves removing the infected or inflamed pulp from the inside of a tooth. The pulp is the soft tissue that contains nerves, blood vessels, and connective tissue, and it can become damaged or infected due to decay, injury, or other reasons.
Root canal therapy is typically recommended when the damage or infection has reached the innermost part of the tooth and has caused significant pain, sensitivity, or swelling. Without treatment, the infection can spread to other parts of the mouth and even the body.
During the procedure, the dentist or endodontist will numb the affected tooth and surrounding area with local anesthesia. Then, they will create a small access hole in the top of the tooth to remove the damaged pulp and clean out the inside of the tooth. They will then fill the space with a special material called gutta-percha and seal it with a filling or crown.
After the procedure, the tooth may feel sensitive or tender for a few days, but most patients are able to return to their normal activities the next day. It is important to maintain good oral hygiene and schedule regular dental check-ups to ensure the success of the root canal therapy.
Root canal therapy has a high success rate, and can often save a tooth that would otherwise need to be extracted. It is a safe and effective way to relieve pain and restore the health and function of a damaged or infected tooth.
Root canals can range in cost depending on what materials are used, what tooth needs the root canal therapy, and where you're located. They can range from $900-$1600 per tooth. Dental insurance may cover the cost of root canals, depending on the individual policy. Patients should check with their insurance provider to determine their coverage and out-of-pocket costs. If not covered by insurance we offer financing through third-parties that can be used for root canals and any other dental work needed.
Find a reputable dentist, consult with the doctor, and discuss your treatment plan and all associated costs. A benefit of choosing 1st Choice Dental Centers for your root canal therapy is that we offer most, if not all, of the services needed to achieve your ideal smile under one roof!
If you're in need of root canal therapy, please give us a call at 678-293-8773 to discuss your options today!
Professional, courteous, friendly, empathetic. Great staff! I will gladly return for future dental needs.
Wayne C.
This is the best place I've been to! everyone is always super nice. my hygienist is the sweetest & is the main reason I keep coming back.
Hannah S.
Was referred to 1st Choice Dental by a co-worker after I broke off a tooth. I had to get that tooth extracted which took longer than expected but the whole staff made me feel very comfortable. Dr. Orza, Karla and Liz were great.
Angela S.
The office staff was amazing from the moment I walked into the door until the moment that I left! They make you feel right at home. I will definitely be returning.
Rachel L.
I love going to the dentist! I have had cleanings done, cavities filled, and a root canal done by this team. They always treat me well and explain the procedures and pricing before anything happens. Great staff and amazing doctors
Krystal S.
Love this place. Very professional, but pleasurable. I really understand why the name of their place is 1st Choice. It should be yours.
Gary N.
The best dentist office I have been to in 40 years! Every staff member was professional, patient, gentle, informative, and extremely helpful. The doctor was so supportive and gave me excellent care. I highly recommend this office!
Stacey O.
Amazing experience. Everyone was nice and clearly explained what they were doing. I have never felt more comfortable in a dentist office. Highly recommend.
Erin P.
The staff and services were great. You all made an unpleasant tooth catastrophe enjoyable. Thank you.
Carol T.
First-time patients and we loved them! Everything was clean and everyone was very nice! They did a wonderful job with the cleanings and my husband's crown. Quick and painless! I would recommend this place to everyone!
Amy E.
Our family has used this Dental practice for about a year now. It has always been a great experience. All the team members are very friendly and professional. Thank you for taking such good care of us!
Trena W.
The people at 1st Choice Dental are pleasant and professional. They make visiting the dentist a positive experience. :)
Pamela G.
Outstanding service every time! I'm a long time customer and they take great care of my teeth. They truly believe that the customer comes first.
Ken M.
The staff is professional. Procedures are explained. They make me feel comfortable. They do Great job. When I was in pain from a bad tooth, they saw me that day and took care of the problem. I would recommend them.
Andrea B.
Clean, friendly, and efficient! They explain all your options and OOP costs Before anything begins, and they provide options, if available, to reduce costs. Top-notch service!
Greg K.