Dental Veneers
Minimally Invasive Cosmetic Dentistry To Change Your Entire Smile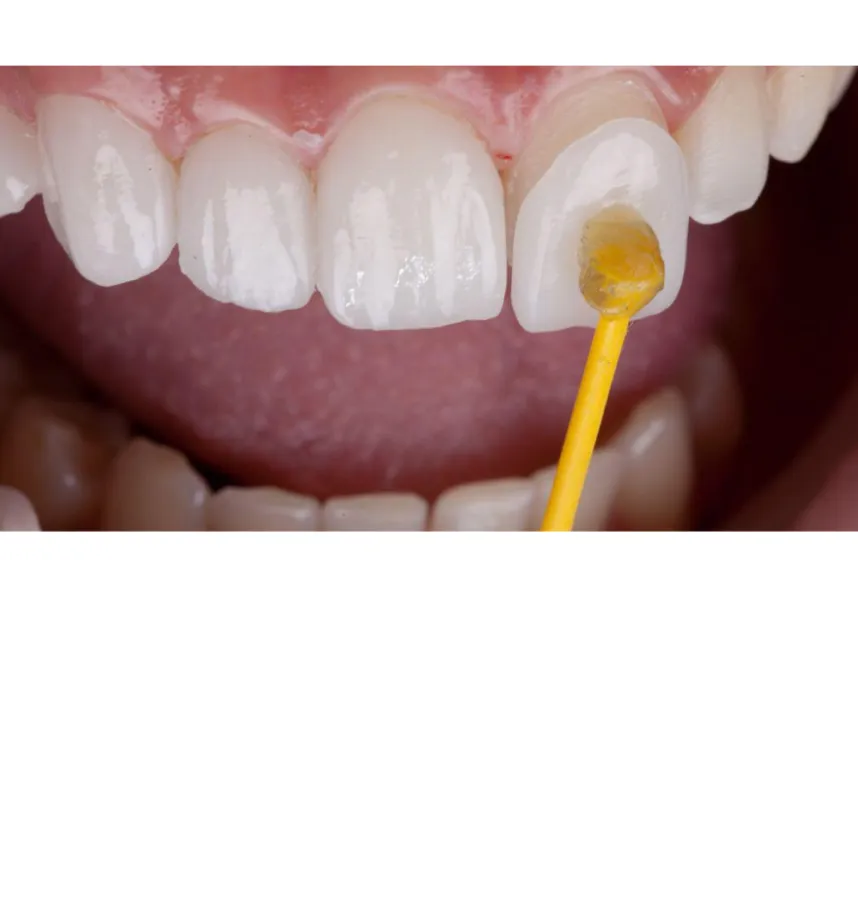 Cosmetic Dental Veneers
Dental veneers are thin, custom-made shells that are designed to cover the front surface of the teeth, with the goal of improving their appearance. They are typically made of either porcelain or composite resin, and can be used to address a variety of dental issues, such as discoloration, chipping, or misalignment.
The process of getting dental veneers usually involves several steps. First, the dentist will examine the teeth and take x-rays to ensure that veneers are the appropriate treatment option. Then, in most cases a small amount of enamel is removed from the front surface of the teeth, to make room for the veneers. The dentist will then take impressions of the teeth, which are sent to a dental lab where the veneers are custom-made. In most cases temporary veneers are placed on the teeth while the permanent ones are being fabricated. This step may not be necessary in cases of minimal or prepress designs.
Once the veneers are ready, the dentist will bond them to the teeth using a special dental adhesive. They will make any necessary adjustments to ensure a comfortable fit and a natural appearance. Finally, the veneers are polished to give them a smooth, shiny finish.
Dental veneers offer several benefits over other cosmetic dental treatments. They are a long-lasting and durable option, with the ability to withstand normal wear and tear for many years. They also provide a natural-looking result that can improve the appearance of teeth and boost a person's confidence. However, veneers may not be appropriate for everyone, especially those with significant dental problems or insufficient tooth structure to support the veneers.
In summary, dental veneers are a popular cosmetic dental treatment that can improve the appearance of teeth and provide long-lasting results. While there are some potential drawbacks to consider, many people find that the benefits outweigh the risks. If you are interested in dental veneers, it is important to consult with a dentist to determine if they are the right treatment option for you.
What are veneers?
Veneers are coverings that fit over the front surfaces of your teeth. Technicians use high-quality dental materials, like tooth-colored composite or porcelain, to create them. Dental veneers are cosmetic in nature. They can conceal a wide range of aesthetic imperfections, including chips, cracks, gaps, tooth discoloration and more.
How do veneers work?
Veneers cover the front surfaces of your teeth to enhance your smile. They work by camouflaging cosmetic flaws. Who needs dental veneers? Anyone who wants to enhance the appearance of their smile can explore veneers. These dental restorations can camouflage: Chipped or broken teeth. Diastema (gaps or spaces in your smile). Stains that don't improve with teeth whitening. Teeth that are too small. Misshapen teeth. It's important to note that veneers are only an option if you're free of extensive cavities and gum disease. If you have serious oral health issues, you should address those first before exploring cosmetic treatments.
Veneers vs crowns: What's the difference?
A porcelain veneer only covers the front surface of a tooth to enhance its appearance. A dental crown, on the other hand, covers the entire tooth structure to add strength and protection. Dental veneers are a cosmetic treatment. In other words, they improve your smile, but they don't necessarily strengthen or repair your teeth. While dental crowns can also improve the appearance of your teeth, their main purpose is to restore teeth that are badly damaged by decay or trauma.
Are there different types of veneers?
Yes. There are a few different types of veneers, including composite veneers, porcelain veneers, and no-prep veneers.
Composite veneers: Composite veneers can conceal mild cosmetic issues. Your dentist uses a tooth-colored composite resin — the same material used for dental bonding — to achieve the desired results.
Porcelain veneers: Porcelain veneers can address a number of aesthetic imperfections. These restorations are custom-made to fit your dental anatomy. Before placement, your dentist must remove some enamel from your natural teeth. This roughens your teeth surfaces and helps your new veneers stay in place.
No-prep veneers: No-prep or minimal-prep veneers are a less invasive option. Like traditional porcelain veneers, no-prep veneers are custom-made for your smile. However, they require less enamel removal than traditional veneers. It's important to understand that no-prep veneers still require some enamel removal. No-prep veneers aren't right for everyone. Ask your dentist if you're a candidate.

Veneers can range in cost depending on what materials are used, and where you're located. They can range from $500-$1500 per tooth. Dental veneers are cosmetic, so they're not covered by most insurances. However, we offer financing through third-parties that can be used for dental veneers and any other dental work needed.
Find a reputable dentist, consult with the doctor, and discuss your treatment plan and all associated costs. A benefit of choosing 1st Choice Dental Centers for your dental veneers is that we offer most, if not all, of the services needed to achieve your ideal smile under one roof!

If you're interested in cosmetic dental veneers, please give us a call at 678-293-8773 to discuss your options today!
My first experience with 1st Choice Dental Care - Kennesaw was excellent. The entire office was friendly and helpful. The hygienist and the Dr. made me very comfortable and took good care of me. I would highly recommend people to visit this office.
Sabia S.
Terrified of the dentist and put it off for many years. Never felt more comfortable and relaxed than I did at this office. They were so professional and very nice. Highly recommend!!
Eric M.
Amazing experience. Everyone was nice and clearly explained what they were doing. I have never felt more comfortable in a dentist office. Highly recommend.
Erin P.
Love this dental office! The staff is so caring and the hygienists and dentists are amazing at what they do! They show that they genuinely care about their patients, and I always leave satisfied! I would highly recommend this dental office!
Catie B.
It was a great experience! The office staff was awesome, the doctor was great, and the price for the services I received was very reasonable. I would highly recommend them to anyone!
Jena S.
I have a severe dentist phobia but 1st Choice Dental Care staff is awesome! I no longer need to be sedated ...yay :) I love the staff here and sort of look forward to my cleanings :)
Stephanie D.
Who can say they love going to the dentist? But, the renovations are very nice, our service was very good and it was a pleasant experience. Everyone was very helpful.
Robert D.
Best experience ever everyone is nice and makes you feel comfortable Great people and they are very professional with their work.
Pamela S.
Dr. Vaughn's staff is friendly, comforting and gentle. The office is very clean and welcoming making them this our new family dentist. Dr. Vaughn is helpful, knowledgeable and very friendly. I recommend 1st Choice Dental to anyone.
Joelle J.
Outstanding service every time! I'm a long time customer and they take great care of my teeth. They truly believe that the customer comes first.
Ken M.
I've never had a better cleaning and I've never felt as confident and comfortable with a dentist. Everyone in this office will make you feel very comfortable. They are very friendly, professional and extremely efficient.
Becky B.
Dr. Stephanie is great!! She is gentle, caring and listens to her patients concerns. She and her staff make you feel very comfortable with any procedure they are doing. I highly recommend Dr. Stephanie!
Shiona B.
I have terrible dentist anxiety and they were beyond understanding and went at a slow pace to keep me comfortable. I was a fan-based on my first impression.
JoBeth G.
I see Dr. Vaughn at the Woodstock location. She and her staff are very friendly and professional. I definitely recommend this practice
Sandra C.
No pain, there is gain! You get the cleanest, nicest smile you can get! Best dentist my family has ever used in my lifetime. Really can't say enough. Make them your dentist office too.
Joseph W.