Posts for tag: nutrition
By 1st Choice Dental Care
May 22, 2018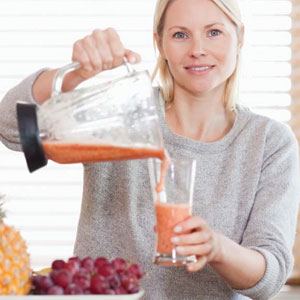 Eating is one of the pleasures — and necessities — of life, but people who suffer from temporomandibular joint disorders (TMD) may find eating no pleasure at all — and they may not be eating the right nutritional balance of foods.
TMD is a collection of conditions that affect the jaw joints, connecting muscles and other related facial structures. If you've been diagnosed with TMD, you're probably not only acquainted with severe pain, but also difficulty opening your jaw as widely as normal. This can make it difficult to chew certain foods.
There are a number of effective treatments for TMD, including thermal therapy (hot or cold packs), joint exercise, medication or surgery (as a last resort). But these treatments often take time to make a noticeable difference. In the meantime, you may still need to change what and how you eat to ensure you're getting the nutrients your body needs.
The overall strategy should be to soften and reduce the chewing size of your food. With fruits and vegetables, you'll want to peel and discard any hard or chewy skins, and then chop the fruit flesh into smaller pieces. Steam or cook vegetables like greens, broccoli or cauliflower until they're soft and then chop them into smaller portions. You might also consider pureeing your fruit (and some vegetables) to make smoothies with ice, milk or yogurt, or vegetable-based soups.
Treat meat, poultry or seafood in much the same way, especially biting sizes. Besides cooking meats to tenderness, include moisteners like broths, gravies or brazing liquids to further make them easier to chew.
Dairy foods are an important source of nutrition: eat milk-based products like yogurt or cheese as much as you can handle. If you have problems with these or also nut butters, then consider meal replacement beverages like instant breakfast or whey protein beverages.
And don't forget whole grains. Although some can be hard to chew, you can prepare them in hot cereal form (like oatmeal) to tenderize them. You can also prepare thin bread toast and cut into smaller pieces.
Hopefully, your treatment will bring your TMD symptoms under manageable control. Until then (and after, if need be) adjust your diet to eat the foods that keep you healthy.
If you would like more information on maintaining a healthy diet with TMD, please contact us or schedule an appointment for a consultation.
By 1st Choice Dental Care
October 13, 2017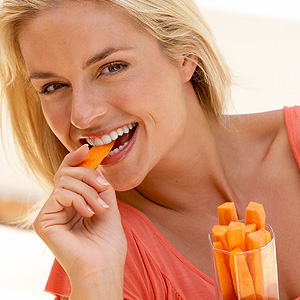 Your diet can play as important a role in your dental health as brushing and flossing. What you eat (particularly sugar) could increase your risk of tooth decay despite your hygiene habits. And vice-versa: a nutritious diet may help boost your preventive efforts even more.
Let's look at two very different approaches to diet and see how your dental health is likely to fare under each.
A High Sugar/Low Fiber Diet. Modern western diets heavy with processed foods are inundated with two particular types of refined sugars. The first is sucrose, which comes mainly from either beets or sugar cane. Foods (and beverages) may also contain a refined sugar from corn known as high fructose corn syrup. Refined sugars are added for taste to thousands of products like cake, candy, soft drinks or even condiments like catsup. These "free" sugars are easily processed by bacteria into acid. Combine that with fewer fibrous vegetables in the diet and you have a recipe not only for obesity and other health issues, but tooth decay as well.
A High Fiber/Low Sugar Diet. Fruits and vegetables make up a large part of this kind of diet, while added free sugars much less so. That doesn't make this diet sugar-free: all plant products contain simple sugars produced by photosynthesis. The difference, though, is that these sugars — glucose, fructose and sucrose (natural, not the refined versions) — are more slowly absorbed into the bloodstream during digestion because of the fiber content of fruits and vegetables. You'll also receive other nutrients like vitamins and minerals necessary for good health. Eating this kind of diet will help decrease the risk of tooth decay.
So there you have it: eat more fresh fruits and vegetables and restrict your intake of processed foods and sweets. You may also want to fine-tune a few items to maximize decay prevention: for example, eat starches in their natural form (whole grains, beans or certain fruits) as much as possible rather than refined or in combination with added sugar (cakes, cookies, etc.). And while fresh fruits with their naturally occurring sugars aren't a significant factor in tooth decay, dried fruits (especially with added sugar) might.
Bon appétit!
If you would like more information on proper diets for better oral health, please contact us or schedule an appointment for a consultation. You can also learn more about this topic by reading the Dear Doctor magazine article "Nutrition & Oral Health."