Posts for tag: missing teeth
By 1st Choice Dental Care
October 29, 2018
Tooth loss can happen to anyone. Gum disease continues to be one of the leading causes of tooth loss among adults according to the Centers for Disease Control and Prevention (CDC), but accidents and trauma can also cause unexpected tooth loss. Missing teeth can ruin your smile, but they can also cause oral health problems down the road. The good news is that there are a number of options available to restore your smile and oral health. The dentists at 1st Choice Dental in Woodstock and Kennesaw, GA, recommend dental implants for healthy adult patients who can commit to good oral hygiene practices and ongoing follow up dental care.
Get a Brand New Smile with Dental Implants in Woodstock and Kennesaw, GA
Implants consist of the implant and a cosmetic crown. In order to qualify for implants, adults must be in good overall health, and have enough bone density in the gums to support the implant, which will fuse with the surrounding bone tissue after it is surgically placed in the socket of the missing tooth. The implant is a small titanium screw that acts as the root to which the crown is attached through an abutment.
Implants are the only restoration available that replaces the entire structure of a missing tooth from root to crown. In addition to making the crown more secure, implants help to prevent bone loss in the gums, which begins as soon as a tooth falls out. With good oral hygiene and follow up care, implants have a very high success rate and are designed to be a permanent replacement for a missing tooth. Implants can be used to replace a single tooth to an entire set of dentures for full tooth loss.
Find a Dentist in Woodstock and Kennesaw, GA
To learn more about dental implants and whether they are the right dental restoration option for you, contact 1st Choice Dental today to schedule an appointment with one of our dentists by calling (678) 293-8773 in Kennesaw or Woodstock.
By 1st Choice Dental Care
September 30, 2018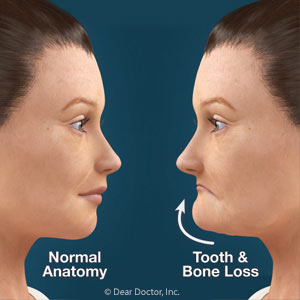 Losing teeth will certainly disrupt your otherwise beautiful smile. It could also potentially affect your food choices and whether or not you receive proper nutrition.
But something else just as consequential could be happening beneath the surface of your gums—you could be losing bone. Significant bone loss in the jaw could adversely affect remaining teeth and facial structure, as well as limit your future restoration choices.
To understand why this occurs we must first consider what bone is: living, cellular tissue. Like the body's other cells, bone has a life cycle: cells form, live and eventually dissolve (or resorb), and are then replaced by new cells. Stimulation from forces generated during chewing traveling up through the tooth roots to the jawbone keep this cycle going at a healthy pace.
But when a tooth is missing, so is this stimulation. This could slow the replacement rate and cause bone volume to gradually decrease. The jawbone width could decrease by as much as 25% the first year alone and several millimeters in height after just a few years.
Although dentures (a popular and affordable choice) can restore lost function and appearance, they can't duplicate this needed stimulation. They even accelerate bone loss by irritating and creating compressive forces on the bony ridges and the gums they rest upon.
One restoration, however, can actually help stop bone loss and may even reverse it: dental implants. This happens because an implant's metal titanium post imbedded in the jawbone attracts bone cells to grow and adhere to its surface. This could actually increase bone density at the site.
To gain this advantage, it's best to obtain implants as soon as possible after tooth loss. If you allow bone loss to occur by waiting too long, there may not be enough to properly support an implant. Even then it might be possible to build up the diminished bone through grafting. But if that's not possible, we'll have to consider a different restoration.
To determine the condition of your bone after losing teeth, visit us for a complete examination. Afterward, we'll be able to discuss with you the best way to address both your overall dental health and your smile.
If you would like more information on treating missing teeth, please contact us or schedule an appointment for a consultation. You can also learn more about this topic by reading the Dear Doctor magazine article "The Hidden Consequences of Losing Teeth."